The consortium is currently delivering the first version of the MD-Paedigree infostructure platform to be tested: the following section decribes its various components and features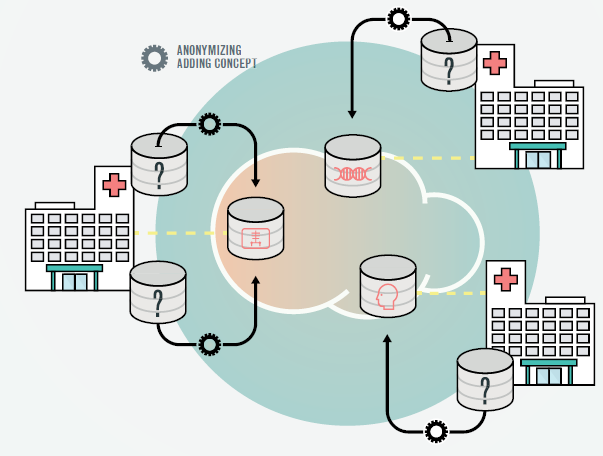 MD-Paedigree  Cloud Integration
MD-Paedigree has a relatively complex architecture composed of different layers,  the Cloud is one of them
Cloud computing is a way to provide and to use a large number of computers connected through a realtime communication network. In science, cloud computing is a synonym for distributed computing over a network. This means the ability to run a program or application on many connected computers at the same time. In common usage, the term "the cloud" is essentially a metaphor for the Internet. Marketers have further popularized the phrase "in the cloud" to refer to software, platforms, and infrastructure that are sold "as a service", i.e. remotely through the Internet. Typically, the seller has actual energyconsuming servers which host products and services from a remote location, so end-users don't have to; they can simply log on to the network without installing anything. The major models of cloud computing service are known as Software as a Service (SaaS), Platform as a Service (PaaS), and Infrastructure as a Service (IaaS).
FedEHR: Patient centric data
A highly secure patient-centric and vendor-neutral HER (Electronic Health Records) repository.
In accordance with the latest data modelling concepts in the literature, FedEHR proposes a storage model that is fully centred on the patient. All the data that is stored in the system is organised around a data structure representing a patient model. The current description of FedEHR architecture provides an evolutionary structure of data starting from the patient. Currently the data structure is oriented around medical concepts of medical events and clinical variable. These abstract models can be refined and specialised using metadata definitions created from physicians' descriptions of diseases and exams. Leveraging on the cloud, FedEHR provides a distributed database for heterogeneous medical information integration from different geographical locations. It gives a unique and integrated view of data and offers a variety of tools to navigate and analyse data. FedEHR is composed of 3 modules : Cloud, Big data, Analytics.
Big Data Federation Service
To design, instantiate and manage patient-centric vendor-neutral distributed big data silos.
The Big Data Federation Service allows to setup silos of medical sensitive data in the private cloud network and to federate them into a single database. Aggregated data can then be queried, filtered, processed securely and irrespectively of its geographical location and complexity. At the very heart of FedEHR, Big Data makes it possible for healthcare professionals to access massive amounts of heterogeneous medical data, to analyse trends, patterns, simulate and test treatments, or even advice on similar cases and associated outcomes found in the network of connected electronic health records silos.
Ecrf
An application for Electronic Clinical report forms
According to the need and in order to simplify the process of importation of new data, MDPaedigree's Gnubila partner has decided to develop and provide the project a tool called eCRF (electronic Clinical report form). This application consists in a configurable survey exposed through a web interface hosted by a server installed in each data acquiring centre. This tool has been conceived and developed with the assistance of UCL partner following a semi agile process whilst the customer has been consulted at each step of definition. DPS generic Importer MD-Paedigree's Sheffiled university and gnubila partners have developed a generic importer based on The Data Publication Suite (DPS) connection abilities. A pivot exporting XML format that can manage both data structure, semantic annotations and data values has been defined by MD-Paedigree's infostructure team. Depending of the needs, anonymisation can be processed by the DPS transport, done by the java complementary importer or using a hybrid plugin called by the DPS. This generic connector allows to reuse the DPS software developed for VPH-Share for connection to hospital routine system. The DPS graphical interface is used to model data structure as a tree and some annotation are added to indicate FedEHR repository which element of FedEHR repository of the XML corresponds to a patient and which one correspond to a medical event. Once defined the connector is configured to run automatically periodically to enrich the repository.
Scrum Agile Process
Agile development recognizes that testing is not a separate phase, but an integral part of software development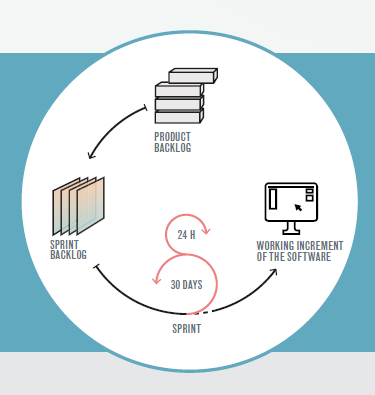 The e-infrastructure applications supporting the clinical models released by the Infostructure follow a Scrum agile process, with a view on user validation and interfaces quality improvement. Within this process user representatives are consulted on the products features, improvements and bug fixes to be dealt with. Scrum is an iterative and incremental agile software development framework for managing product development. It defines "a flexible, holistic product development strategy where a development team works as a unit to reach a common goal", challenges assumptions of the "traditional, sequential approach" to product development, and enables teams to self-organize by encouraging co-location or close online collaboration of all team members, as well as frequent face-to-face communication among all team members and disciplines in the project. This way, the foundational Infostructure provides a solid technical base onto which new clinical models and tools can be developed and tested. Under an agile approach, requirements, programming, and testing are often done concurrently. Testing and coding are thus done incrementally and iteratively, building up each feature until it provides enough value to release to production.