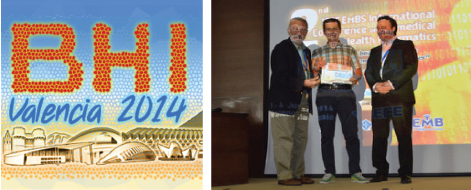 In 2014, IEEE Engineering in Medicine and Biology Society (IEEE-EMBS) launched a Special Topic Conference "IEEE-EMBS International Conferences on Biomedical and Health Informatics (BHI)" with more than 330 registered attendees. The overall theme of the conference was "Translating key health challenges with advances in biomedical informatics", covering diverse topics from cutting-edge biomedical and healthcare technology research and development, clinical applications, to biomedical education. MD-Paedigree actively attended the International conference on Biomedical and Health Informatics (IEEE BHI'14) in Valencia, after having got the possibility of holding within it a special session on Big Data in Healthcare. Some members of the Consortium participated in the BHI 2014 Student Best Paper Rapid Fire competition, and were successfully awarded with the first and second prize. The presented papers have been:
Oscar A. Jiménez del Toro, Henning Müller, Multi Atlas-Based Segmentation with an Intensity Feature Refinement – Awarded with the first place.
Lucian Itu, Costantin Suciu: A method for modeling surrounding tissue support and its global effects on arterial hemodynamics – (Awarded with the second place in the special session dedicated to Big Data in Healthcare within the Best Student Paper competition).