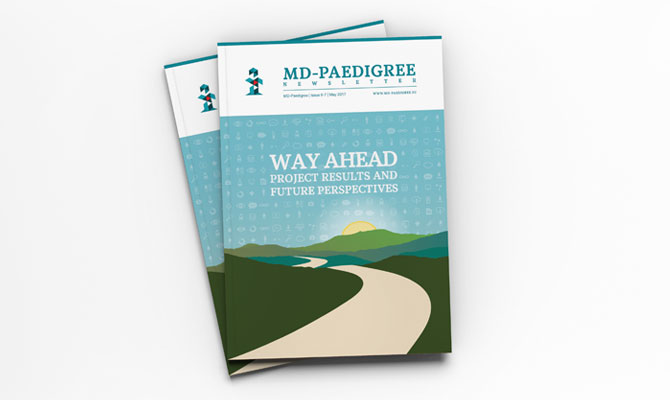 Welcome to the double and final issue (6-7) of the MD-Paedigree newsletter!
You can download it in pdf format here or read it online.
This conclusive issue has been envisaged as an overview of the major project accomplishments – scientific evidences, computer-based modelling tools and relevant prototypes – achieved throughout these four years in the dedicated clinical areas – cardiomyopathies, cardiovascular risk in obese children and adolescents, juvenile idiopathic arthritis and neurological and neuromuscular diseases – together with their clinical validation and relevant application scenarios, as well as the big data analytics which have "armed" the MD-Paedigree Infostructure, with the ultimate goal of providing clinical decision support tools to paediatricians directly at the point of care.
The contents include:
An introduction to the different project areas, research goals and clinical application scenario

Articles individually dedicated to each of the main models and big data analytics developed throughout the project, baseline principle, implementation workflow, validation in clinical setting and potential impact for clinical decision making and patient care

An overlook of the new research initiatives fuelled by the MD-Paedigree Infostructure

A focus dedicated to the project exploitation perspectives in the healthcare industry
We hope you enjoy the reading! For any comment or further inquiry, please contact us at: info@md-paedigree.eu